Posted on May 27, 2020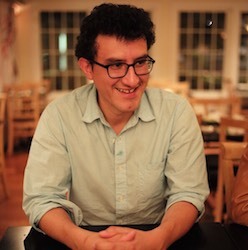 Re-imagining Migration and Words Without Borders invite you to join us on Wednesday, June 3rd at 5 pm.
We'll be reading "I Am Not Your Cholo," a personal essay from journalist Marco Avilés, who moved to the U.S. from Peru several years ago. In it, Avilés shares his personal history of growing up with brown skin in a racially divided country, the sense of recognition he felt while watching the James Baldwin documentary "I Am Not Your Negro," and his efforts to communicate his experiences to the U.S.-born, mostly white audiences he encounters in his new home of Maine.
The essay was translated from Spanish by Sophie Hughes and is available bilingually. (It was also published as a part of a longer Spanish-language book with the same title.)
So that we can have a substantial conversation, we ask that people read theessay -- or at least the blog post about it -- before we meet.
Questions? Contact Us or write to [email protected]

We look forward to seeing you this Wednesday!