Posted on May 31, 2019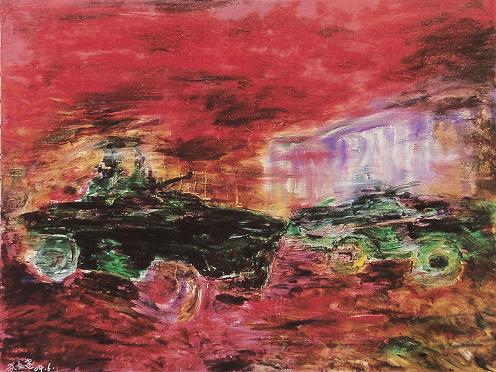 A painting from the series "Eternal Sorrow," by protester turned painter Wu Wenjian.
This coming Tuesday will mark 30 years since the Chinese government's violent suppression of young pro-democracy protesters at Tiananmen Square. In China, due to government censorship, most students know little or nothing about this event. How about students in the U.S. and other countries? Whether you have ten minutes or an entire class session, you'll find ways to introduce your students to the events of June 4th, 1989---and demonstrate their continued relevance---below.

1. A ten-minute interview with translator Wenguang Huang, who was among the protesters at Tiananmen Square, below.
(Watch the video on YouTube.)
2. A former student leader's "Prison Memoirs," translated by Wenguang Huang (in the video above.) Below and in the Playlist, you'll see a contemporary video from a student activist imprisoned this spring for advocating for social equality.

In April 2019, two months after making this video, Qiu Zhanxuan disappeared.
3. An oral history from Wu Wenjian, a protester turned prisoner turned artist (His painting appears above.)
4. A stirring speech from Liao Yiwu, the poet and oral historian who interviewed Wu Wenjian. Below, you'll find a video of Liao Yiwu's poem "Massacre," about the events of June 4th.
We hope you'll use these resources to encourage students to raise their own voices about what matters to them.