Posted on October 26, 2018
5 chairs and a cat. By Vassilis, 2013.
In the November 2018 issue of the magazine Words Without Borders, "A velvet chair/ standing by itself/ on a highway" gives an unnamed narrator pause. The chair's "life is over," and yet, the careful way someone placed it on the highway suggests a sort of love. Is it possible that some "wandering soul" is sitting in the chair even now? the narrator asks himself. Even as he replies in the negative, he seeks some way "to give the chair/ a little consolation."

The author and translator of "A Chair on a Highway on a Rainy Afternoon" is the young poet P.K., who was once part of the Mở Miệng (Open Mouth) underground poetry group. In the issue introduction, the editors write that, "Silence, among Vietnamese authors, seems to have become a compelling tradition," as they vie to see "who can stay silent the longest?" In this poem, there seems to be a tension between what is said and unsaid, between the closed and open mouth.
An American poem with similar tensions, and a similar interest in the objects of the everyday world, is William Carlos Williams' famous The Red Wheelbarrow, available on Poets.org. The same website also publishes Edward Hirsch's essay on Williams' poem, which is definitely worth a look, as Hirsch asks similar questions of Williams' poem as students might ask of P.K.'s; for example, why the lack of end punctuation? If the essay seems too long and involved to assign to students, an educator might follow Hirsch's general approach, which is to solicit and affirm readers' immediate responses before going into analyses of form or meaning:
What are the first things you notice about the poem? Begin with what you know, or what you think you know.
As an assignment, students might take Hirsch's challenge to:
[C]ontinue writing the poem yourself. Double the length, either by repeating the theme or by adding a new riff about the images...This is an experiential way of discovering what is noticeable about the poem.
Then they might write a short reflection on how this exercise helped them to better understand "A Chair on a Highway on a Rainy Afternoon":
What did your lines look like?
How, if at all, did you use punctuation?
How did it feel to write in this way? What kind of mood did it put you in?
Related poems on WWB Campus include the equally meditative and imagistic "Soul, you are a street," from Russia, and "Riverwilt," from Japan.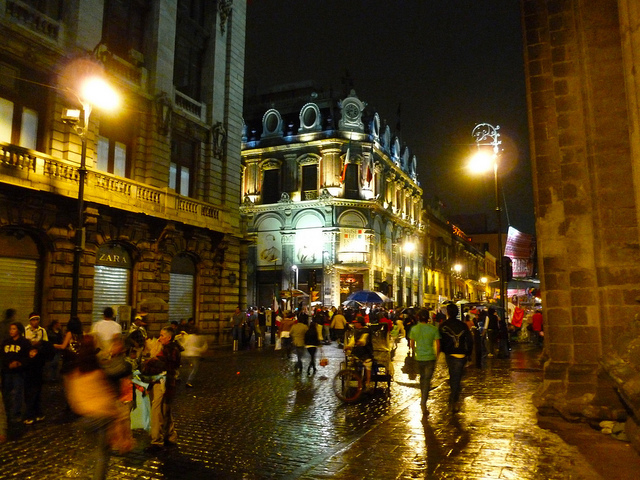 In this story from Ariel Urquiza, translated by Samantha Schnee and also appearing in this month's issue of WWB, a young Peruvian man named Jonathan delivers drugs to a wealthy Mexico City home. Like P.K.'s poem, this story focuses on a lone figure in the center of a teeming scene. Isolated from the guests by his youth and poverty, Jonathan watches their antics, and his keen observations are likely to resonate with student readers:
"He felt like he was in a museum despite the fact he had never been to one, but something told him they were just as opulent and sad."
"The fact was, none of this was of interest to anyone since it happened to a guy wearing a tight yellow shirt, cowboy boots, and red trousers."
The final passages reveal the toll of the drug wars with sickening immediacy. (The story includes descriptions of drug use and violence, and a homophobic slur.)
To help students understand the context, you might share a Public Radio International story on Mexican cartels in Peru, as well as some of the literature and resources in the Drug Wars module of the Mexico unit on WWB Campus.
If you are interested in a literary pairing, Jonathan's sense of isolation is similar to what Salar Abdoh describes in his memoir of immigrating to the U.S. from Iran, "Hunger." Jonathan watches the wealthy party-goers "as if through a window; just as just as Salar Abdoh's younger self sees America as a "glass display where I could not reach what was on the other side."
There are also many other literary loners comparable to Jonathan, from J.D. Salinger's Holden Caulfield to Ralph Ellison's Invisible Man to the narrator of Regina Derieva's poem "Unity of Form," who has given up all ties to "'valuable and essential' items."
Some of your students may be familiar with reggaeton, the music Jonathan hears at the party – if so, you might ask them to share an example or two with the class.
Potential assignments might include:
Stage or film one of the conversations in the story. Be ready to explain your choices around voice, gesture, and other elements of performance with references to the text.
Write a short story about a character trying not to think about something.
Write an essay comparing Jonathan to a different literary loner.
If you decide to teach "Remains of a Party in Condesa" or "A Chair on a Highway on a Rainy Afternoon," or we'd love to hear how it went!