Posted on February 26, 2018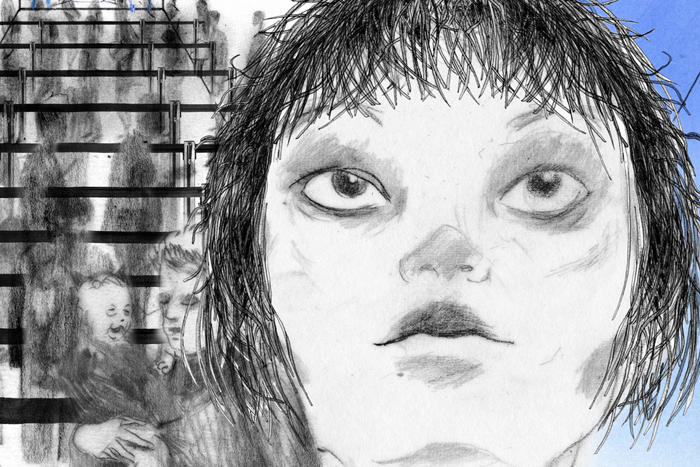 "It's almost impossible to get in, but getting kicked out is easy." So begins "Scandorama", excerpted in this month's graphic literature-themed issue of the magazine Words Without Borders. Written by a Finnish author and illustrated by a Kenyan-Swedish artist, the story centers around a "homo felinus," the result of a medical experiment, a self-described "misfit" turned resistance fighter.
Students might resonate with passages like:
They made me. I was other people's dreams. Before I could have a say, they made me.
Graphic literature published in WWB is short, and easy to integrate with other new or classic work. You could teach "Scandorama" alongside "Sharing," another dystopian graphic story with a strong sense of place, also created by an author-artist team.
In comparing the stories, you might discuss the ways in which the authors exaggerated elements within existing culture to create their dystopias. (Plastic surgery in "Scandorama," consumer culture in "Sharing.") As a culminating assignment, students might create their own dystopian stories based on existing cultural trends in your country or region.
Other pairing possibilities include the Chinese story "Death Fugue," in which a man wakes up in an apparent utopia. For young students reading the classic novel The Outsiders, "Scandorama" presents an alternate vision of two worlds colliding. Older students reading Flannery O'Connor's "A Good Man is Hard to Find" might compare "misfits" across the two stories.
Other stories of interest in this month's graphic issue include "The Hundred-hour War"," a nonfiction account of the first U.S.-Iraq War, which could be taught alongside other war writing, or as part of a World History course. The story is illustrated by Eisner nominee David B.
"Spit Three Times," an imaginatively illustrated, empathetic account of a Roma family in Italy, provides a window into ethnic stereotypes and could be taught alongside the graphic story "The Pharaohs of Egypt". (Both of these stories include some explicit language.) It could also be paired with the Russian short story "Pears from Gudauty" or other literature that takes on bigotry.
Do you use graphic literature in your classes? If so, how? Let us know on Facebook or via the Contact page. To read the entire new issue, visit International Graphic Novels: Volume XII.